ONE STOP SERVICE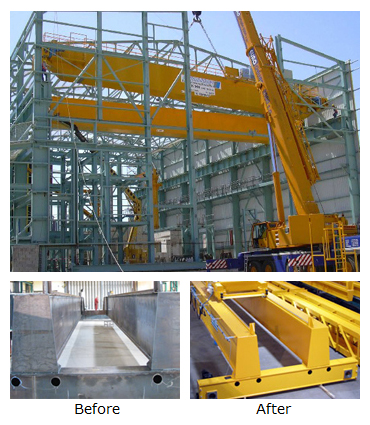 PIM can offer you comprehensive, innovative solutions to every lifting and handling need, from a single source.
- Extensive, fully catalogued range of products
- In-house CAD design, production, installation and testing teams
- Assembly, repair and fabrication workshops
- Technologically advanced computerized testing equipment

SAFETY FIRST
100% safety is built into every project we undertake.
- People-focused solutions - Full risk assessment and analysis
- Long experience and in-depth understanding of HSE requirements

QUALITY IN EVERYTHING
All our activities are based on delivering the highest quality possible, both in products and in services, ensuring long term benefits and optimum performance.
- Best quality materials from carefully chosen and approved suppliers
- Branded, industry-recognised products
- Highly skilled LEEA-trained staff

CONSULTING & ENGINEERING
PIM engineers have decades of experience in the domain of cranes and hoisting / handling systems as well as in other engineering fields.
We provide consultation and advise in our field of expertise to several industries and engineering companies as pure engineering services (basic and detailed engineering) for all type of cranes (Overhead cranes, port cranes, etc.) and operations (manufacturing, ports, energy, petrochemical, steel, production, etc.)

INSPECTIONS
As part of a preventive or a corrective maintenance process or as the result of your own initiative, we provide comprehensive inspections properly documented with detailed drawings, technical description and digitalized pictures. PIM will provide you not only with a Service Solution but also with all the elements and materials to grant your proper managerial decision.
We will send you our reports in any of the usual electronic formats or as a hard copy via fax.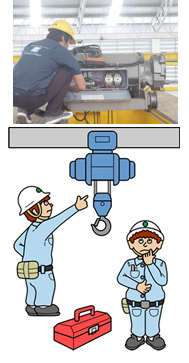 MAINTENANCE
Our Preventive Maintenance System anticipates the solution of your operational needs before normal problem occurs avoiding non-scheduled stops of your production line or the lack of operation of your facilities.
Our Corrective Maintenance Systems address your specific problem. PIM can solve the electrical, electronic, structural and mechanical problems of and of your material handling equipments.

24- hours Emergency Repair , 7 days A week
Effective emergency
Overhead crane systems repair in based on 3 essential factors:
Fast response time
Qualified, experienced technicians
Access to all brands of repair parts
Call out for 24hr out of office hours call out please call 0-81735-3511 to speak directly to an engineer.

REVAMPING
Revamping of Hoisting Equipments and its main components is an integral part of PIM's Services Solution. In several occasions your mature, but still operational, equipment can provide several additional years of good performance to your industry. Please contact us for a proper evaluation of your case, after advising you on the possibilities and cost of a complete or a partial revamping and receiving your approval, we will complete it in a very short period.