Since our beginning in 1991, we have specialized in overhead crane systems, monorails, hoists, goods lifts, and many types of standard and custom material handling equipment. Our involvement in this field virtually covers all aspects, including product applications, sales, engineering, fabrication, installation, parts, service maintenance and inspections.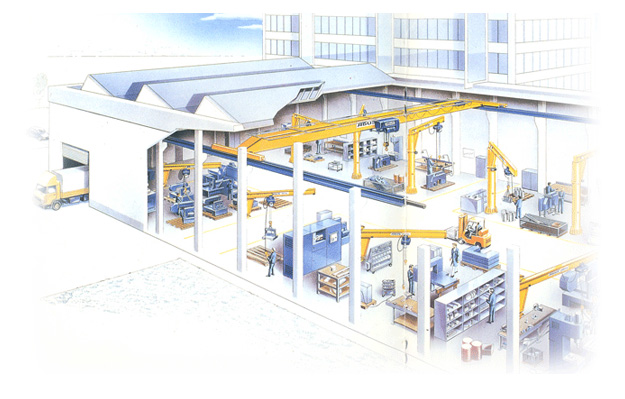 Our staffs experienced structural, mechanical, and electrical engineers, specialists whose expertise insure that our solutions exceed your expectations. We design and manufacture our own overhead traveling cranes, gantry cranes, jib cranes; and our own monorail and runway systems. At PIM, our team of highly skilled associates takes great pride in building world-class cranes of the up most quality.



We also specializes in the distribution of electric wire rope hoists, electric chain hoists, air hoists, hand chain hoists, trolleys, end carriages, adjustable frequency motor controls, remote control, electrification systems and a full line of replacement parts. We stock complete inventories of these products in all of our warehouses, from the world's leading manufacturers such as Mitsubishi, Abus, Kito, Nippon hoist, Hitachi, Shaw box, Tbm hoist, Blackbear, Wampfler, and many others. Our distribution is noted for "in stock" same day shipment at the most competitive prices.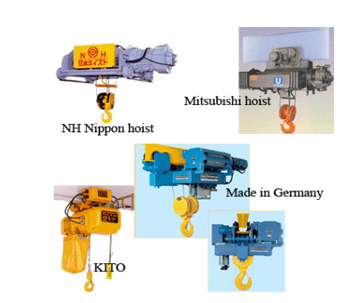 Our Mission
To lead by creating new solutions in material handing technology.
To be a world-wide leader by providing OEM's, service companies, distributors and end-users with the highest value
and most reliable equipment and engineering services.
To exceed customer expectations with a quality process comprised of superior technology, manufacturing techniques,
facilities and performance testing.
To support our customers with a service structure delivered by the best team with the broadest experience.
To be deliver the best return on investment and maximize cash flow.
To provide a work environment that allows us to attract and retain the highest quality people.
To conduct our business with ethics and integrity and with respect to prevailing laws and regulations, and be a good corporate citizen in our community.
Our Vision
Pacific Ind. Machinery will deliver unmatched satisfaction and value to every customer.
To employ Creativity and Dependability in all we do.
To be the Global Leader in Material Handing Solutions.
To lead our industry as a company founded upon the principles of integrity, unity and compassion.




Our Values
Our people and our customers are our most important assets.
Integrity
Courtesy
Honesty
Compassion
Dedication
We will be good stewards of our company resources.
We are trustworthy and honest in our day to day activities.
We are a dedicated and committed team contributing to the success of our Company and to each member of our team.
We are loyal, and dedicated to achieving common goals and objectives.
We believe that our "one" source, one responsibility concept allows the customer to bring together all of the important aspects of the project with one qualified source, pacific Industrial Machinery Company.